NUBIA has purchased a 4-headed embroidery machine and is interested in sharing the opportunity to use this machine to create unique products with members of our community!
In the spring of 2017 we will be offering several classes to those interested how to use the machine. Once you have completed the classes, we will make work shifts available to those who would like to use the machine to create their own products. Each class series will cost $100 and must be completed before you are able to sign up to use the machine. When possible we will offer scholarships/reduced prices with support from individual donations and grants. To use the machine you must also put down a $100 deposit, and we will also charge a small commission per item sold to cover the cost of machine maintenance, which we will discuss with each individual and decide on a case-by-case basis.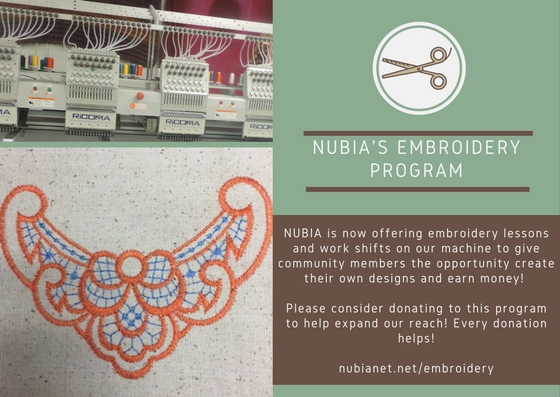 To donate to this program to help make it stronger and increase its reach, click here.
If you have any questions or would like to register for the class, contact Emily Barbour (e.barbour@nubianet.net, 617-982-3731).